Welcome to Study Hall! The Internet can be a great resource as long as you know how to use it. Here you will find tips for effective web research to help you get the most out of the Internet.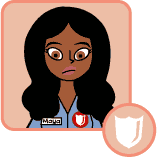 Maya
Cyber Defender & Databank Supervisor

Because of her unquenchable thirst for knowledge, Maya started out as a librarian. While she loved her job, she wanted to do more to help protect people.

Since Cyber Villains such as Ms. Information and Elvirus can corrupt websites and the information on them, Maya teaches people to protect themselves by using caution when visiting websites and avoiding sites that are not trustworthy.
Favorite Quote:
Give me a fish and I eat for a day. Teach me to fish and I eat for a lifetime
- Chinese Proverb
Favorite Food:
Anything chocolate
Interests:
Browsing bookstores, baking