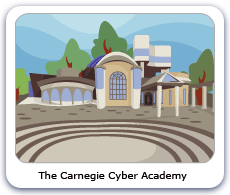 At the Carnegie Cyber Academy, cadets complete several training missions in Cyberspace that equip them with the skills they need to be good cybercitizens and Cyber Defenders of the Internet.
The safety and security of our cadets is our top priority. Cadets in training at the Academy are uploaded to a secure section of Cyberspace within the Academy's firewall for their training missions, and our dedicated staff maintains the defenses with the utmost care and security.
For more about life at the Academy, visit the Cadet Life page.
The Academy's selection process is based on aptitude, attitude, eagerness to learn, and commitment to teamwork. To register for the Academy, click here.
History of the Academy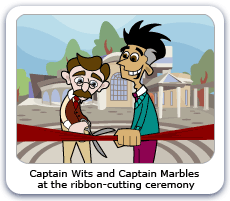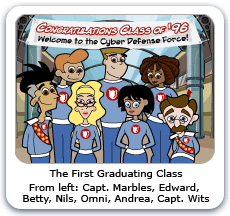 The Carnegie Cyber Academy was founded by renowned Cyber Defenders Captain Wits and Captain Marbles in 1995. Prominent figures even when the Internet was still Arpanet (1969), the two captains witnessed the Internet go public and the problems caused by Cyber Villains grow very quickly.
The two visionaries realized a need for an elite force of defenders of the Internet, and thus founded the Academy.
The first class of Cyber Defenders graduated from the Academy in 1996.
Commander Omni took over the Academy from Captain Wits in 2001 and continues to train each class of cadets with the aid of the Cyber Defense Force.