Shortcuts:.
Blog Archives:.
Though the cadets no longer post to their blogs, you can still read through the archives:


The Latest
Dana and Erika's site for the freshest news at the Academy.


No N00bs Zone
Video games and some serious space stuff can be found in Alan's blog.


Make Your Own Sunshine
If you like puzzles, secret codes, and noodles, you'll love Alexi's blog.


Fired Up
Sparky may have developed a reputation as a script kiddie, but now he uses his brain for good.


Jumping Jax
Former Cyber Bully Jax has joined the cadets in the fight to secure Cyberspace.


Culture Shock
Visiting from Japan, Yoko shares her perspective on life as a Carnegie Cadet.
An Academy cadet's life is never boring. Plenty of hands-on experience and challenging training missions and keep cadets on their toes during school hours. But life at the Academy isn't all intense training and serious defense, and downtime is full of fun things to do!
Campus Life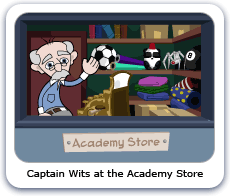 Cadets at the Academy each get their own dorm room that they may decorate however they like.
Items for your dorm room can be purchased from Captain Wits at the Academy Store. He always has some interesting things in stock, so be sure to stop by!
The Cadet Lounge is well-equipped for fun, with all the latest gaming consoles, a lovely widescreen TV, and plenty of good old-fashioned sporting goods and board games.
The Academy faculty have been known to challenge cadets to a board game night, so it never hurts to practice!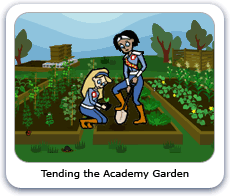 The Academy grounds are a great place to stretch your legs so you are not spending too much time at a computer.
A soccer field and basketball court are available for pick-up games, and the Academy garden provides not just an abundance of food and fresh flowers, but also a perfect place to compost all of the Academy's kitchen and paper waste. Tending the garden and harvesting its bounty is a task enjoyed by all of the student body and staff.
Clubs and Activities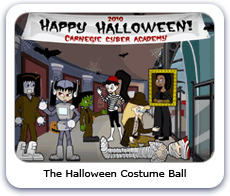 Cadets in need of a break from their intense training can attend exciting field trips and fun parties every semester, including:
A trip to visit Officer Marshall and tour the Cyber Forensics Lab
A visit to the Natural History Museum and the Art Museum
Outings to Antezelles soccer games and other sporting events
Several holiday parties, including the annual Halloween Costume Ball and Valentine's Day Dance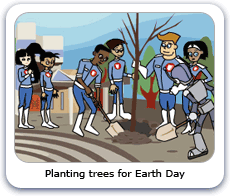 Cadet Clubs also plan fun events and are always eager for new members:
The Gaming Club Gamers R Us hosts a Game Night every Friday in the Cadet Lounge. All types of games are welcome!
The Environment Club Green Warriors host a Technotrash fundraiser and trash pickup on Earth Day and maintains the Academy's Garden
The Sci-Fi Club Friends of Zwert hosts a monthly themed dinner-and-a-movie night in the Cafeteria. Costumes are encouraged!
Cadet Project Gallery
Carnegie Cadets everywhere are doing their part to make the Internet safe by sharing their cybersecurity know-how. If you've got something for the Gallery, send us an email about it!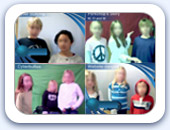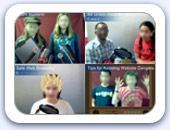 The C. S. Cybersafe Channel
These students' videos show they really know their stuff, even with tough topics like cyber bullying and website dangers.

Great job, cadets!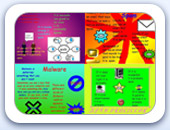 Online Safety Posters by the Mexican Jumping Jellybeans
These elementary students created some excellent online safety posters.

We can't wait to hang them up in the computer lab, well done Cadets!