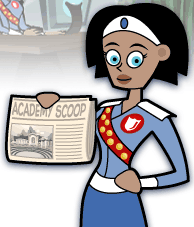 Ms. Information and Elvirus Captured!
March 26, 2009 - Big News! Thanks to a tremendously successful undercover operation led by Officer Marshall and our very own Officer Ward, I am most pleased to announce that notorious Cyber Villains Ms. Information and Elvirus have been captured and are now in their own cells at the Detention Center.
They were collaborating on a malicious Web site hoax that, if it had been successful, would have caused waves of problems in cyberspace. We are pleased to report that Cyber Defenders are now analyzing and cleaning up the mess. We would also like to extend a special thank-you to Sparky for his assistance in planning the capture.
Meeting G.I.R.L. Tech
March 17, 2009 - On a recent trip to Carnegie Mellon University, the Carnegie Cadets were very excited to meet G.I.R.L. Tech, a project that aims to make robotics more accessible to kids through interactive museum exhibits and robotics internships.
The cadets were very interested in G.I.R.L.Tech's robotic painting bot exhibit and are looking forward to taking a field trip to the Children's Museum of Pittsburgh to check it out after it's been installed.
St. Patrick's Day
March 10, 2009 - Next Tuesday after classes, we will have a St. Patrick's Day party in the Cafeteria.
Maya will award special prizes to cadets who can answer her Irish trivia questions, and Betty has promised to teach everyone (who wants to learn) an Irish jig. Don't forget to wear green, or you'll get pinched!
Spring Break
March 2, 2009 - The Academy Spring break is the week of March
9-13th. I hope those of you going on vacation have a nice, relaxing and fun-filled time, but there will be plenty of activities for those of you staying with us at the Academy as well.
Trey and Maya are hosting a day trip to Jasperwood Amusement Park, Officer Ward is organizing a pick-up softball game, and Scout will be installing our new video game system in the Academy Lounge. We will also be celebrating Pi Day on Saturday the 14th with a pie-filled frenzy in the Cafeteria, hosted by Betty. She's invited everyone who wants to learn her secret pie crust recipe to join her in the kitchens on Friday. Please bring an apron!