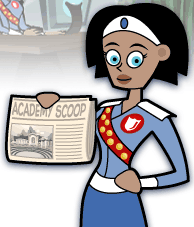 Earth Day Green Party
April 20, 2009 - Thanks to everyone's hard work at the technotrash fundraiser, we made enough money to have a really special Earth Day party. Dana's put a lot of work into planning the party and has even purchased some reusable bamboo plates and utensils that we can use at every Academy party from now on. There will be games, "green" party favors and delicious organic treats for everyone.
To honor Earth Day and the Japanese hanami tradition, we have also planted cherry trees on the Academy grounds. Future cadets will be able to enjoy their beautiful blossoms every Spring. I'd like to thank Yoko for sharing this lovely tradition with the Academy!
The fun starts at 2pm in the Cafeteria. See you there!
Technotrash Fundraiser
April 15, 2009 - Don't miss out on the technotrash collection fundraiser this Saturday that Dana and Trey have organized.
We'll have a few technotrash collection teams going door-to-door and scouring the Academy, starting with the buildings in cyberspace. The front patio is a designated drop-off spot for the rest of the community, so we'll also need a team there. The goal is to collect technotrash, but if you see any regular trash along the way, please pick it up, too!
We're planning on using the funds we collect from this pre-Earth Day activity to have a "green" party on Earth Day.
April Fools!
April 1, 2009 - Today's "attack" that took down the Academy's entire network was, in fact, fake. It was a test to see how you would behave during a real attack, and you performed beautifully!
We'll have a special afternoon seminar this Friday to discuss what happened and how we might improve our emergency protocol. This is important, so please be on time.
Emergency Alert
April 1, 2009 - Attention everyone! The Academy's access to cyberspace and the Internet has been compromised. We have lost all contact with the cadets and Defenders currently in cyberspace, but the firewall is still up so we believe they are not in danger at the moment.
This appears to be an organized cyber villain attack. Everyone please remain calm and follow emergency protocol!