Welcome to Carlo on the Go! In this blog you will find helpful cyber defense information for mobile devices like smart phones, notebook computers, and bluetooth headsets. As with any technology, the more you know about it, the safer you can be and the more fun you can have!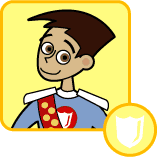 Carlo
Cyber Defender &
CyberPort Technician

Carlo is always on the go, whether it's to watch a match with his favorite team, the Antezelles, to play a spontaneous pick-up game of soccer, or to join in the latest LAN party in Cyberspace. His mobility know-how and endless energy keep him ready and able for the unique cyber defense challenges that mobility brings.
A recent graduate (class of '09), Carlo has completed his post-graduation field training in the field of cyber forensics, and returns to the Academy to take up the post of CyberPort Technician.

Favorite Quote:
To be prepared is half the victory
- Miguel Cervantes
Favorite Food:
Energy bars
Interests:
Sports, dogs, smart phones