Welcome to The Digital Environment! The Internet has changed our world dramatically, and not always for the better. Here you can learn about environmental issues related to computers and the Internet and what you can do to minimize your environmental impact.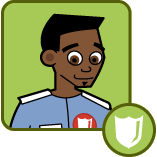 Trey
Cyber Defender &
Message Center Supervisor

As an environmental activist, Trey believes that technology has the potential to improve our world, but only if it is used and created responsibly. He encourages people to become aware of their actions and to make simple changes in their lives that will have a big impact on the environment.
A recent graduate of the Academy (class of '07), Trey runs the Message Center in Cyberspace. He loves communicating via email because it is quick, easy, and reduces paper waste.
Favorite Quote:
When one tugs at a single thing in nature, he finds it attached to the rest of the world.
- John Muir
Favorite Food:
Vegetable Curry
Interests:
Ultimate frisbee, Gardening, Recycling trash into treasure