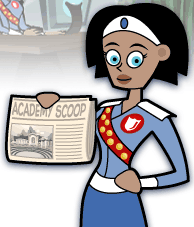 Summer Projects
June 17, 2009 - This summer we have a few cadets staying at the Academy to work on summer projects with our faculty.
Alan will be working with Officer Ward to help upgrade the Detention Center's Cyber Forensics Lab


I'm also pleased to announce that Carlo has graduated this semester and will spend the summer with Cyber Defender Marshall training in Cyber Forensics. He intends to return to the Academy after his field work is complete to join the Academy faculty.
Yoko's Going Away Party
June 15, 2009 - We will have a special going-away party for our exchange student Yoko this Friday in the Cafeteria, before everyone scatters for summer vacation. Alexi has many games and activities planned. Please stop by and join us!
Graduation
June 8, 2009 - The last day of the semester is this Wednesday, June 10. Commencement will be on Saturday.
Congratulations to the graduating class! We Cyber Defenders are very proud to have you among our ranks, helping us keep cyberspace safe.