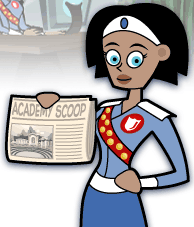 Welcome Back
September 8, 2009 - We've got an exciting new semester ahead of us, cadets, so look sharp! Just so you know, there have been a few changes while you were away.
To go along with his new responsibilities as a faculty member, Carlo has a new blog!
Since Yoko left and Carlo graduated, it looks like we have a few openings for some new Cadet blogs. Keep an eye out for some fresh new bloggers!
To our returning cadets, it's great to see all of you again! And to all of our new cadets, get ready for a whirlwind of a semester!