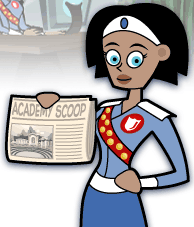 Academy Halloween Ball
October 26, 2008 - Greetings, Boils and Ghouls! Deathly Dana and the rest of our Creepy cadets and Fiendish Faculty are hosting our annual Halloween party this Friday.
There will be putrid pumpkin pie and sickening apple cider for everyone. We'll have apple bobbing, a costume contest, and enough candy to make our dentists cry (don't worry, I'll make sure everyone brushes after). And if that isn't fun enough for you, we might even have a special guest...

Happy Halloween!