Shortcuts:.
Back to Computer and Device Defense
More Computer and Device Defense Topics:


Daily Diagnostics
Dr. Keen and Scout's blog archives.


Carlo On the Go
Carlo's blog archives.
Watch For Signs of Infection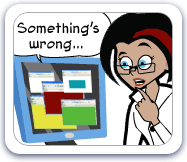 You can get malware by opening infected files or from active content applications on websites. Here are a few things to watch out for:
Your computer is processing things unusually slowly
Your software is malfunctioning or displaying a lot of error messages
Your computer won't shut down or restart
Your computer has a lot more pop-up ads or they are popping up when you're not surfing the Web
Your computer launches programs or webpages that you didn't intend to use or sends emails that you didn't write
If you think your computer has malware, first try to minimize the damage. Stop what you are doing and disconnect from the Internet, then tell a trusted adult. With the help of a trusted adult, make sure your anti-malware software is up-to-date and scan your computer, removing anything it identifies as a problem. If your computer is still acting odd, you may need to call in professional help.
Keep Your Software Up-To-Date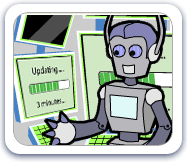 Frequently when a company puts out software, it's not completely perfect and can have security holes or weaknesses called vulnerabilities. Software vulnerabilities make it easier for your computer to be infected by malware, so cyber criminals frequently try to take advantage of them.
Companies often announce vulnerabilities as they are found and quickly work to fix them. You can fix vulnerabilities on your computer by installing software and security patches as soon as the company provides them. Check the company's website for software updates or set your software up to check by itself.
It's especially important to keep your computer's defensive software and your Web browser up-to-date in order to keep up with new cyber defense threats. Download and install the newest version if your browser is out-of-date and make sure your anti-malware software is set up to receive regular updates. Spam filters need to be trained to identify spam correctly, so check through what your spam filter is catching from time to time to make sure that it is not flagging valid emails.
Watch Out For Scams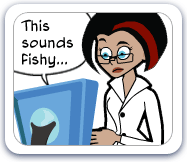 One of the easiest ways for cyber criminals to steal is to simply trick people them into trusting them. Using social engineering techniques, they create elaborate scams that offer great deals, free offers and lots of money in return if you just trust them.
Here's a few tips for recognizing if something is a scam:
The company doesn't reveal their name, address or phone number
They make lots of claims about their product that they don't back up or provide links to reviews about it
They go on and on about how rich you are going to be without really revealing the details
They say that it is not a scam
What they're offering sounds too good to be true, like a free laptop computer or promises of millions of dollars
They're offering to let you in on a secret that only a few people know about
You have to pay a fee to find out the details of the offer
They ask for your credit card number or a donation
Be on the watch for Internet scams, especially if you are going to be shopping in Cyberspace. There are many of them out there. Offers that sound too good to be true usually are
Defenses for Shopping Online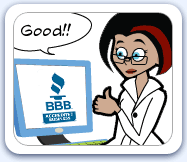 You usually need a credit card to buy things online, so be sure to have a trusted adult with you and take measures to protect your personal information. Here are a few tips that will help you be a safer online shopper:
Try to stick with stores you know, especially ones that have actual, real-life locations, as well as websites
If it's a new store, try to find reviews from other customers about their experiences with it. You can look on sites like the Better Business Bureau and BizRate for reviews and complaints
Look for companies that have a customer satisfaction policy and try to fix customer complaints or difficulties quickly and fairly, without charging them money
Make sure the site has contact information and an acceptable privacy policy posted
If the site requires you to register an account to buy something, use a strong alias and password
Before registering, read through the privacy policy to make sure it says they will not share private information with others without your consent
Check to see if they belong to any privacy seal programs that help ensure they won't do anything bad with your personal information or credit card data. Some common ones are BBBOnLine and TRUSTe
If site has credit card transactions, make sure they are encrypted and secure. You can check for a security seal like Verisign, or see if the URL on the payment screen starts with HTTPS, indicating it is protected by a Secure Sockets Layer, or SSL
Remember to print or save any records or receipts related to your online shopping