Betty teaches you the importance of keeping your OFFLINE identity separate from your ONLINE identity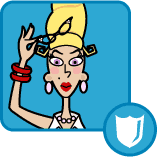 Betty
Cyber Defender & Clubhouse Supervisor

Betty learned the hard way about sharing too much information online when rumors she had spread through her online blog upset some of her friends. Since then she has made it her goal to educate everyone about what information is inappropriate or unsafe to share online to prevent others from getting hurt.

As a Cyber Defender, Betty focuses on the most important information you should never share online, your offline identity.
Favorite Quote:
A stumble may prevent a fall
- English Proverb
Favorite Food:
Tea and crumpets
Interests:
Chatting, macrame, collecting teacups