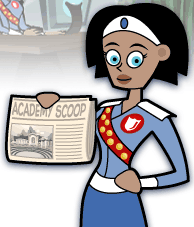 Announcing Our New Cadet Gallery!
March 17, 2010 - Hello cadets!
We've recently added a Cadet Gallery to our Fun Stuff page to showcase some of the wonderful work you've been doing.

We love seeing all the great projects you're working on. Even more than that, we love sharing what you've done with other people who visit our site. If you've got something you want us to share, send us an email about it!

Be sure to stop by the new Gallery to take a look at what the students from Community School submitted. Great videos, cadets!
Spring Break and St. Patrick's Day
March 1, 2010 - Hello cadets! Here are a few reminders for the month of March.
The Academy will close between March 8th and March 12th for Spring Break. If you want to stay at the Academy over the break, you need to get a permission slip to Officer Ward by March 5th
March 7th is St. Patrick's Day, so remember to wear your green! The cafeteria will be serving a traditional meal of corned beef and cabbage, and the vegetarian option is parsnip apple soup. Oh, and I can't forget the fresh soda bread! Yum!