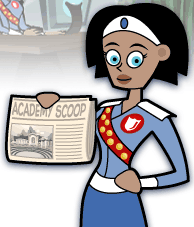 Earth Day
April 19, 2010 - Happy Earth Week, cadets! This year is the 40th anniversary of Earth Day, and we're really celebrating in style at the Academy! Trey is organizing a field trip to a local abandoned lot to clean it up and turn it into a small park. Out with the garbage, in with the green!

Don't forget that protecting the planet also means protecting our oceans. Check out The Nature Conservancy's Earth Day page for some tips on how to do so.

Are you doing anything fun for Earth Day? Send us pictures for our Web site!
Summer Is Starting Early
April 1, 2010 - I'm sad about having to tell you this, but the Academy is closing its doors for good. There's been a terrible outbreak of the Gotcha Virus and it looks like the only way to stop it is to send everybody home.
For more information, check out this month's Ask Omni.