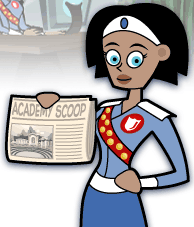 Confirmed Kidnapping
February 28, 2008 - I asked Betty to review all of Alan's chat logs. She tells me that two of the people Alan chatted with on a frequent basis match samples she's saved from previous dealings with the cyber criminals, the DisGuys. She believes that the DisGuys lured Alan away from the safety of campus for the purposes of kidnapping him. She is currently picking through the logs for any clues as to where the Cyber Villains are hiding.
Missing!
February 26, 2008 - I asked Officer Ward to break into Alan's dorm room after receiving reports that he's been cutting class for the last few days. I can confirm that Alan is missing. We are still reviewing the evidence, but it appears that Alan left campus to meet with someone he met over the Internet. We suspect Cyber Villains are involved.
Leap Year
February 15, 2008 - Remember everyone that this year is a leap year. Once every four years we add an extra day to the month of February to correct the calendar. If we didn't, the calendar would start to drift from the seasonal events which it is supposed to mark. A few special people have their birthday on February 29. What do you think they do for the three years between leaps?
Valentine's Day Dance
February 5, 2008 - Everyone break out your dancing shoes! On February 14th, instead of afternoon classes all students are invited to attend the Valentine's Day Dance in the school cafeteria. We will have refreshments and the Cyber Defender's blind gift giving event.