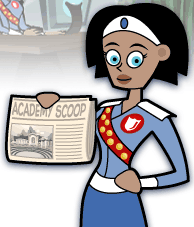 Won't Be Long Now
April 25, 2008 - We are starting to see signs that the Cyber Villains are on the move. Everyone should take these last few peaceful days to do something for themselves. The battle with Nils is going to be tough. Everyone needs to be focused and rested before we start. In fact, I am declaring a day off from school tomorrow.
Call for Volunteers
April 9, 2008 - I've been hearing a lot of questions about where to go to sign up for participation in the defense of our school. The answer is to come see me (Commander Omni) in my office. I will assign you to an appropriate team and inform you of your additional training tasks.

I want to thank everyone who has volunteered so far. Each and every one of you has the soul of a Cyber Defender.
Preparing for the Attack
April 4, 2008 - With the information Alan brought back, we finally have the opportunity to start planning our defense. All of the faculty is pitching in on this. We need your help cadets if we are to succeed in recapturing Ex-Commander Nils.

The faculty will be setting up additional training sessions for those who wish to participate. We are also cutting classes back to reflect the additional workload.